My recent trip to Prince Edward Island with four of my granddaughters proved just how perfect Amtrak train travel is for grandparents traveling with grandkids. I call it GRAMtrakking. No, you can't take a train to PEI. It is an island, after all, and although there is a long bridge, it's only a road – no train tracks. There aren't even any trains left on PEI. More's the pity, for one of the most endearing scenes in the book Anne of Green Gables is when shy Matthew meets Anne at the Bright River train station and realizes for the first time that their new orphan is a girl.
If you are traveling from the Midwest of the United States and heading for the East coast, however, you can take a train part of the way, and that's exactly what the five of us did. I drove with two of my granddaughters from Grand Rapids, MI to meet two more granddaughters in Pittsburgh, PA, and from there we began our train adventure.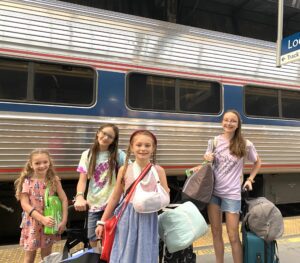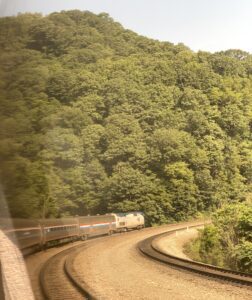 The girls quickly discovered all the advantages of train travel that Grammy has always extolled. Getting aboard was a breeze – just climb onboard. No long lines or security checks (I guess the latter is okay?!) Stow your luggage wherever, there's plenty of room and it's always easily accessible. No need to keep it overhead or stowed under a seat.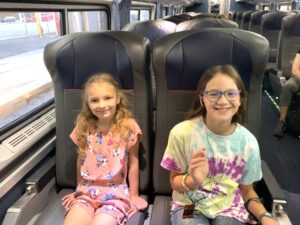 Speaking of seats, they are so spacious! As an – ahem – older woman, I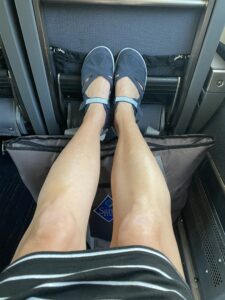 appreciated being able to stretch my legs straight out in front of me. Okay, maybe I'm short but I've never come close to doing that on an airplane. And there are no assigned seats in the coach class so the girls could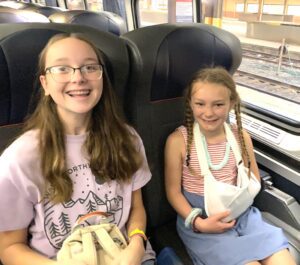 get up and switch seats with their sister or cousins if they were so inclined. It helped break up any boredom.
Boredom, did I say boredom? There's no boredom on a train! There are big windows to look out of, (bigger than in a car or on a plane), with constantly changing scenery. There's freedom on a train. You can get up and walk from car to car, experiencing the delicious thrill of the shifting connections and the woosh of the door opening when you push the button with your foot. Being able to walk all the way down to the cafe car on their own made my granddaughters feel grown up.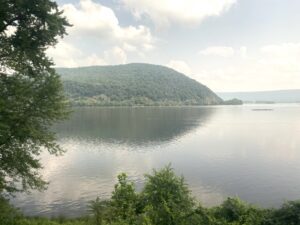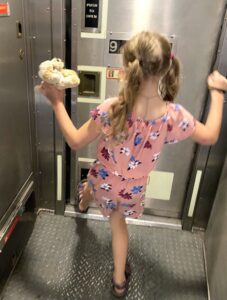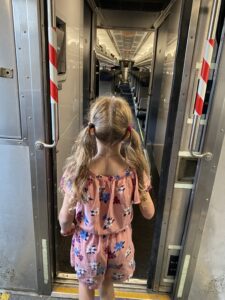 And travel by train is more sociable. On one leg of our journey, the girls had four seats facing each other, allowing them to talk and play games together. Later, a young girl about their age, traveling with her mother and grandfather, sat down across the aisle. Soon all five girls were sharing snacks and games and chatting together. The staff on all the trains took time to actually sit with my granddaughters, answer their questions, and share stories with them. One conductor moved the girls to new seats so they had better windows and even gave them free snacks.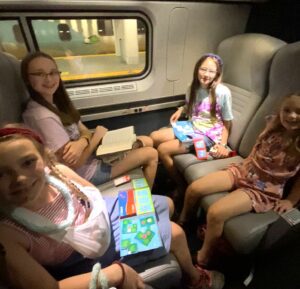 All together, we spent about 20 hours on trains but the time never seemed long. I can't imagine those 20 hours in a car or on a plane! Along with the above-mentioned activities, we kept busy with books, music, art projects, and playing cards. I even was able to take two naps. I couldn't have done that if I'd been driving!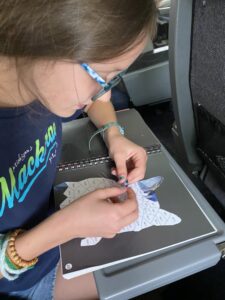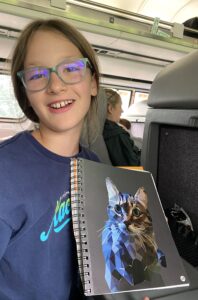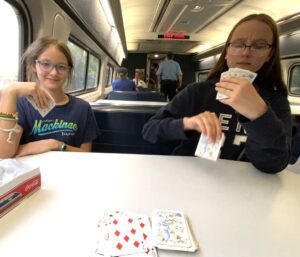 At the end of our entire trip, I had the girls rate each of our activities. Train travel received all five-star reviews, and that made me very happy. I want my grandchildren to love train travel as much as I do!