I kind of fell into this trip at the last minute, without my usual preparations. I did – and didn't – necessarily want to do it. Did, because I always enjoy taking trips with my grandkids and didn't, because I had just returned from a 12-day somewhat rigorous trip to eastern Canada with 4 of my granddaughters…and I was tired!
But my husband and I had already offered to help with our son's five children while he was out of town that week. My 6-year-old granddaughter had been begging me incessantly to take her on Rt 66 while she was still six (like her older sister had done two years earlier) so I thought, "Why not cross two things off my list at the same time?" Leaving my husband  in Ludington with the two oldest girls, which left their mom at home with just the baby, I packed up my 6-year-old granddaughter and her not-quite-four younger brother and headed from Michigan to Joliet, Illinois, to begin our Rt 66 odyssey.
What does a 6-year-old and a not-quite-four-year-old know and understand about Rt 66? Not much. Whenever I tried to explain it, they interrupted me to talk about something else. Whoosh – fast as a hot rod traveling down Rt 66 in the 50s – my explanations flew right over their heads. What they did understand was that they were going on a special trip with Grammy and were going to see all kinds of cool things, including giants. Isn't that enough for kids that age? Also, they would be staying in hotels. My granddaughter dearly loves staying in hotels.
I knew that traveling with this demographic, I would have to plan frequent stops. For the whole three-day, 1000-mile trip, we usually stopped once every hour; sometimes we would go as much as two hours between stops, but not often. Fortunately, on a trip like this, there are so many fascinating things to see that planning stops is easy!
First we stopped at Reenders Blueberry Farms (family owned and operated since 1956) and were blown away by all of their blueberry and blueberry-related products. We bought a quart of fresh blueberries, freeze-dried blueberries, and blueberry donuts for our trip and kept heading south. Next stop, beautiful St. Joseph, Michigan, with its lovely Silver Beach. I let the kids play in the splash pad (complete with water cannons!), as well as take a dip in Lake Michigan. Cool off. Check! Run off some of that energy! Check! The only problem was that I forgot to grab the stack of towels by the front door before we left and now had two soaking wet, sandy kids and no way to dry them off. So, I just peeled their wet bathing suits from their sticky, sandy bodies, tried to wipe them down with a few napkins (limited success, believe me!), tugged them back into some drier clothes, and got back on the road.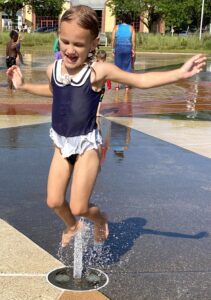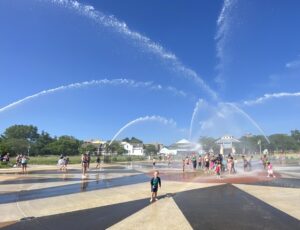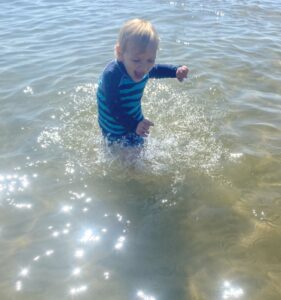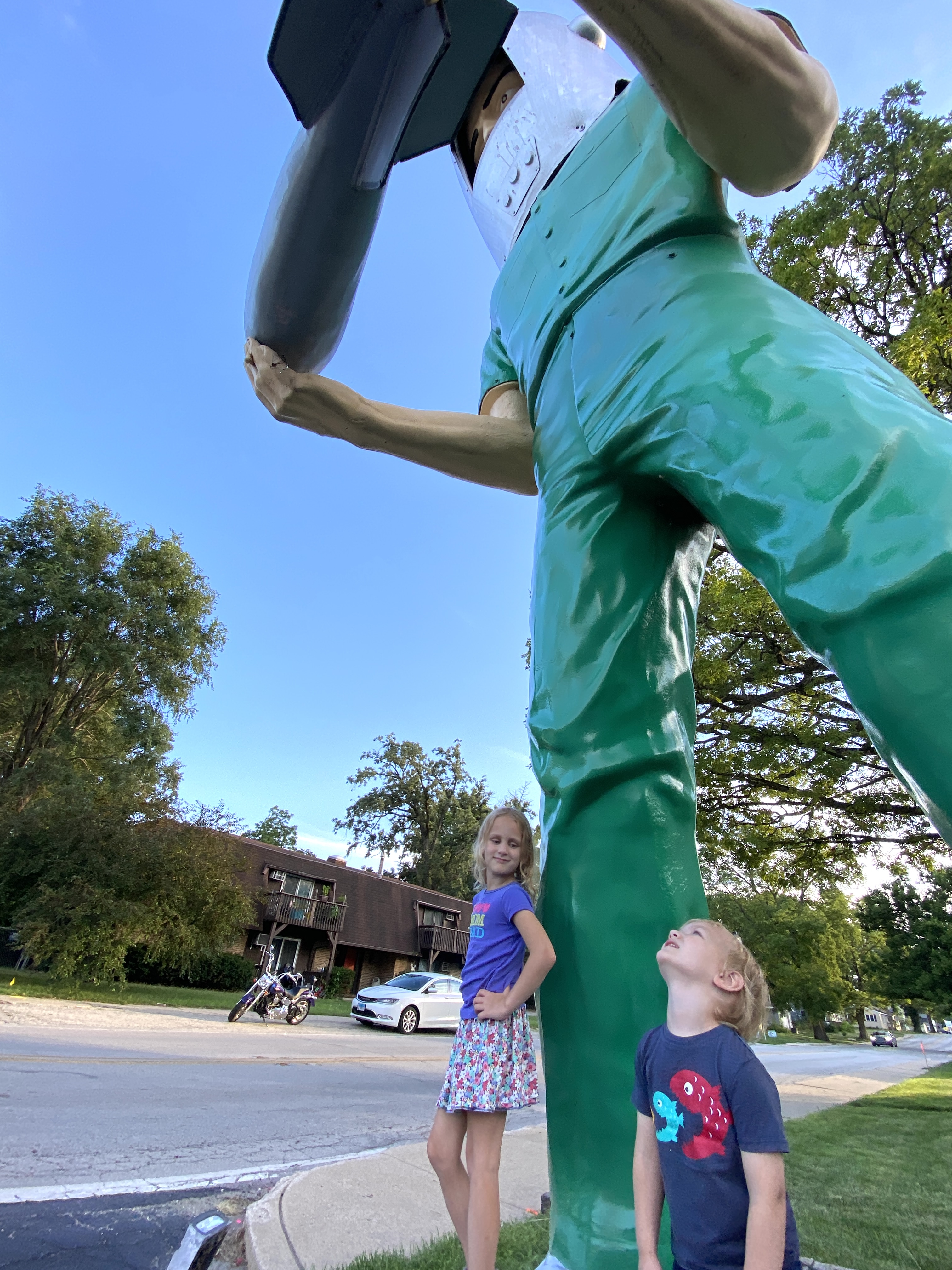 The kids were excited to check into our hotel in Joliet, the official start to all things Rt. 66. On to Wilmington to visit the Gemini Giant. Now this was truly amazing to them and they couldn't wait to see other "giants" along the way. Afterward we had dinner at Nelly's in Wilmington. Two years ago when I visited with a different granddaughter, Nelly's was a cool place where people could write all over the walls and ceilings. It was a little disappointing this time around, as it's become a brewery with just a counter in the back where you can order some lackluster food. But the kids didn't seem to mind. If I bring other grandchildren along Rt 66, however, we'll hope the Launching Pad Drive-In next to the Gemini Giant will have re-opened.
After a good night's sleep, we headed out for the heart of our trip: non-stop quirky Rt 66 stops all day long! It was also the heat of our trip. 97 degrees (!) with heat warnings flashing on all the major roads. Well, we might have to double up on the ice cream and lemonade! Our farthest goal for the day was originally Henry's Rabbit Ranch in Staunton, IL, with stops along the way in Pontiac,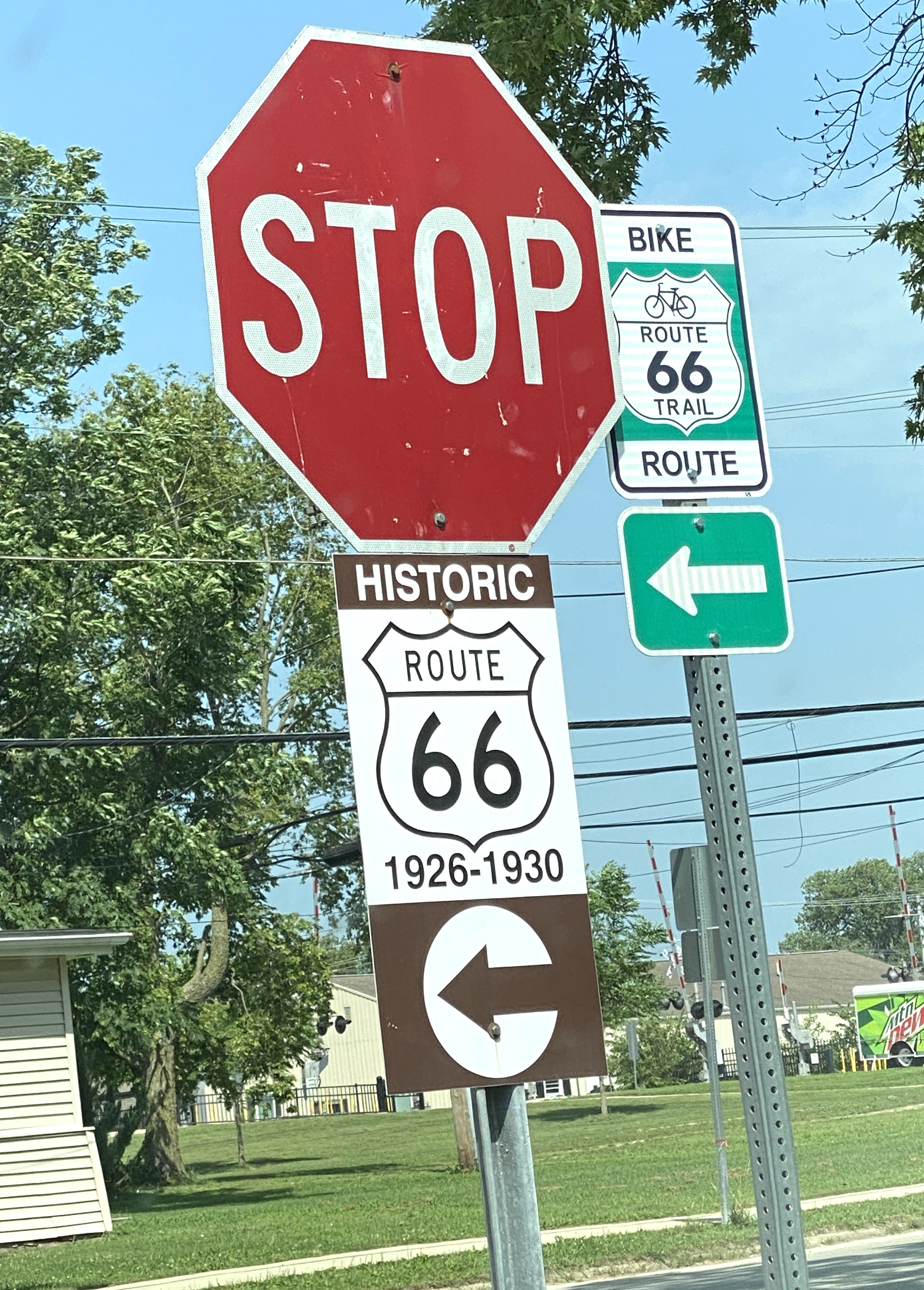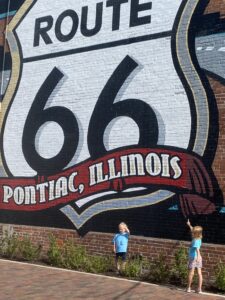 and Atlanta.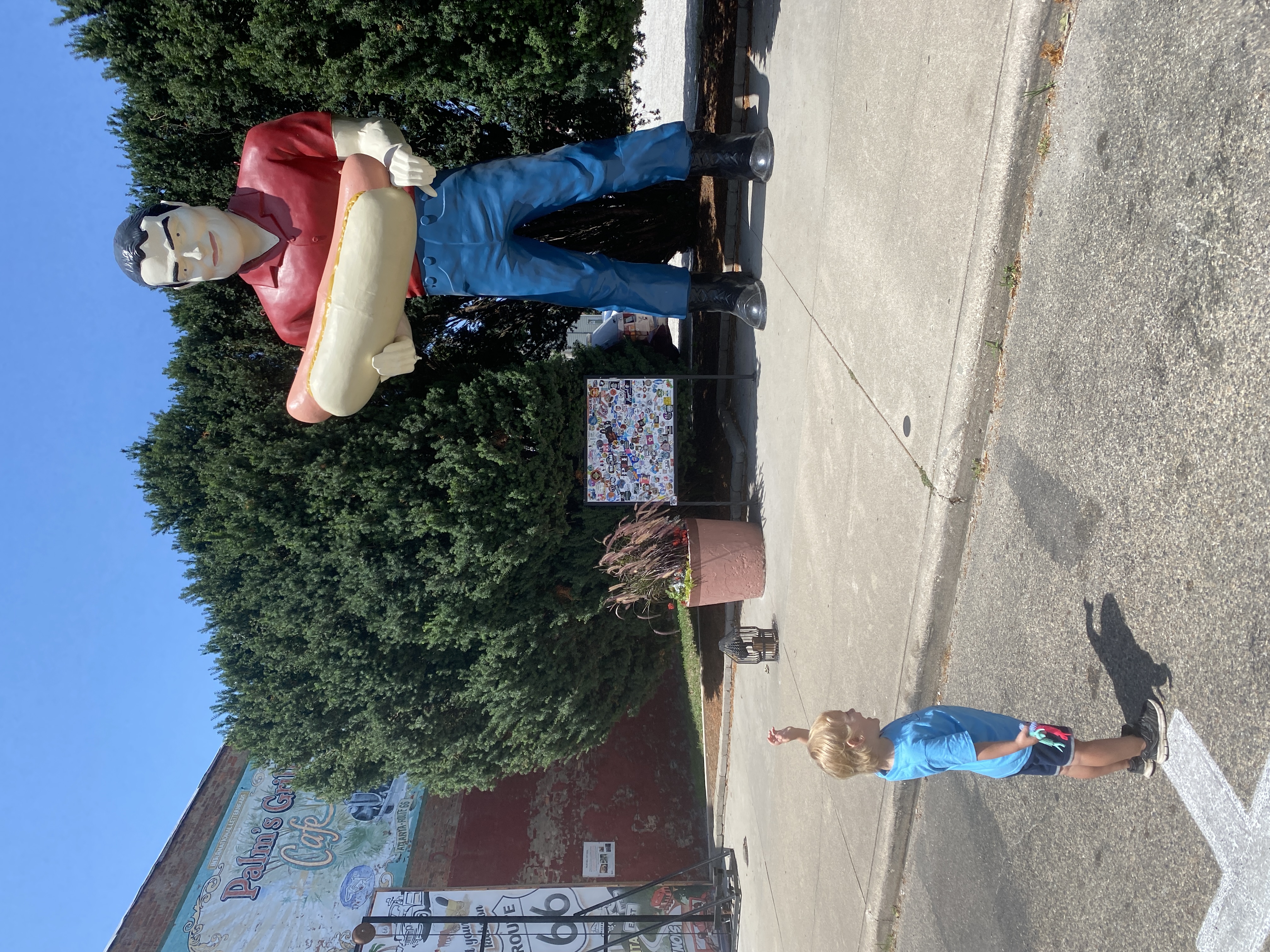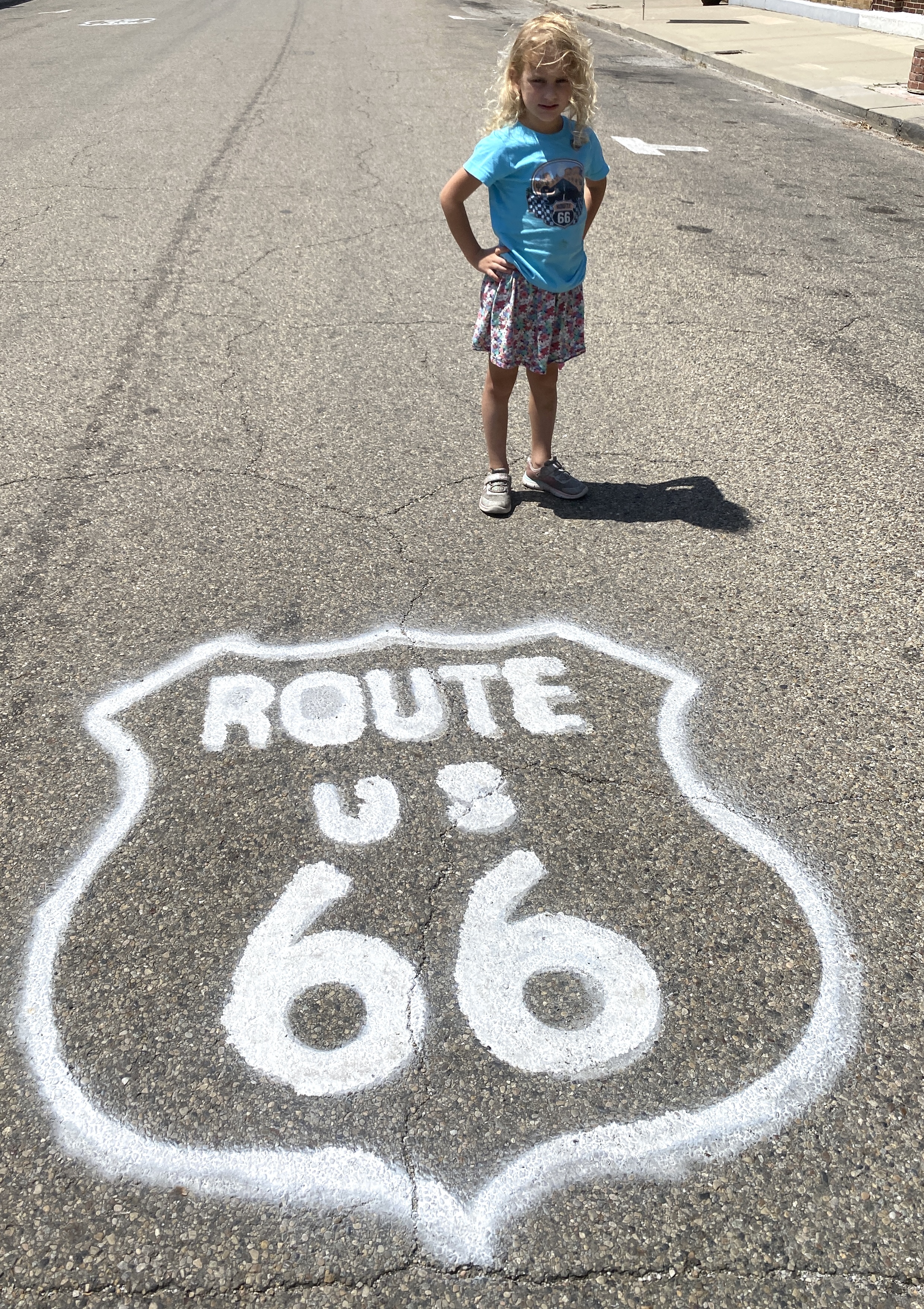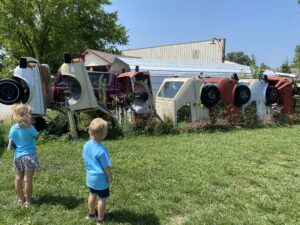 When we got to Henry's "Hare It is!" Rabbit Ranch, we were disappointed we wouldn't get to see the live rabbits but understood that it was just too hot for them to be outside. Honestly, it was almost too hot for any living creature to be outside! Mr. Henry is a "rabbit rescuer" who once had 49 rabbits on his ranch. He is now down to 6, as he is not a young man anymore. He gave each of the kids a tiny porcelain rabbit to keep and let us look around outside. The seven VW Rabbits buried in the side yard was quite a sight!
Because we had some extra time, we decided to include the Livingston Antique Mall on our itinerary. This took us almost to the Missouri border (it was only an extra 7 miles) and was definitely worth it because this place specializes in BIG and QUIRKY: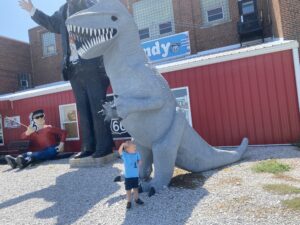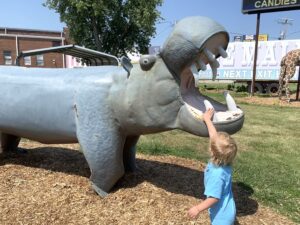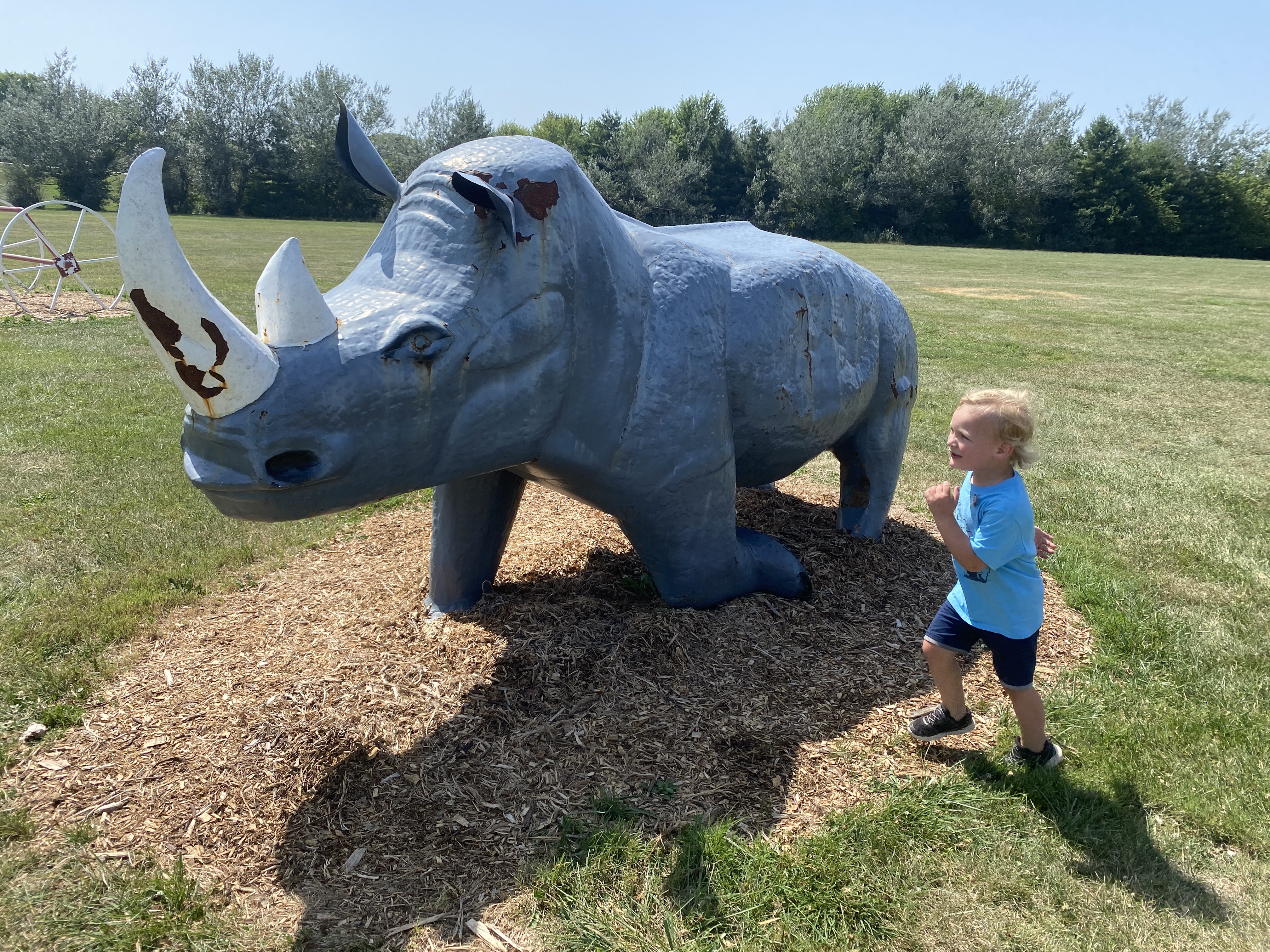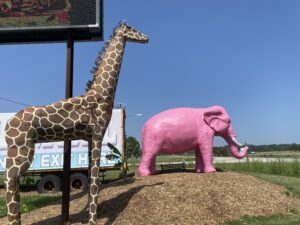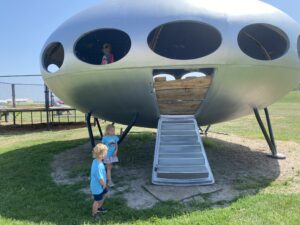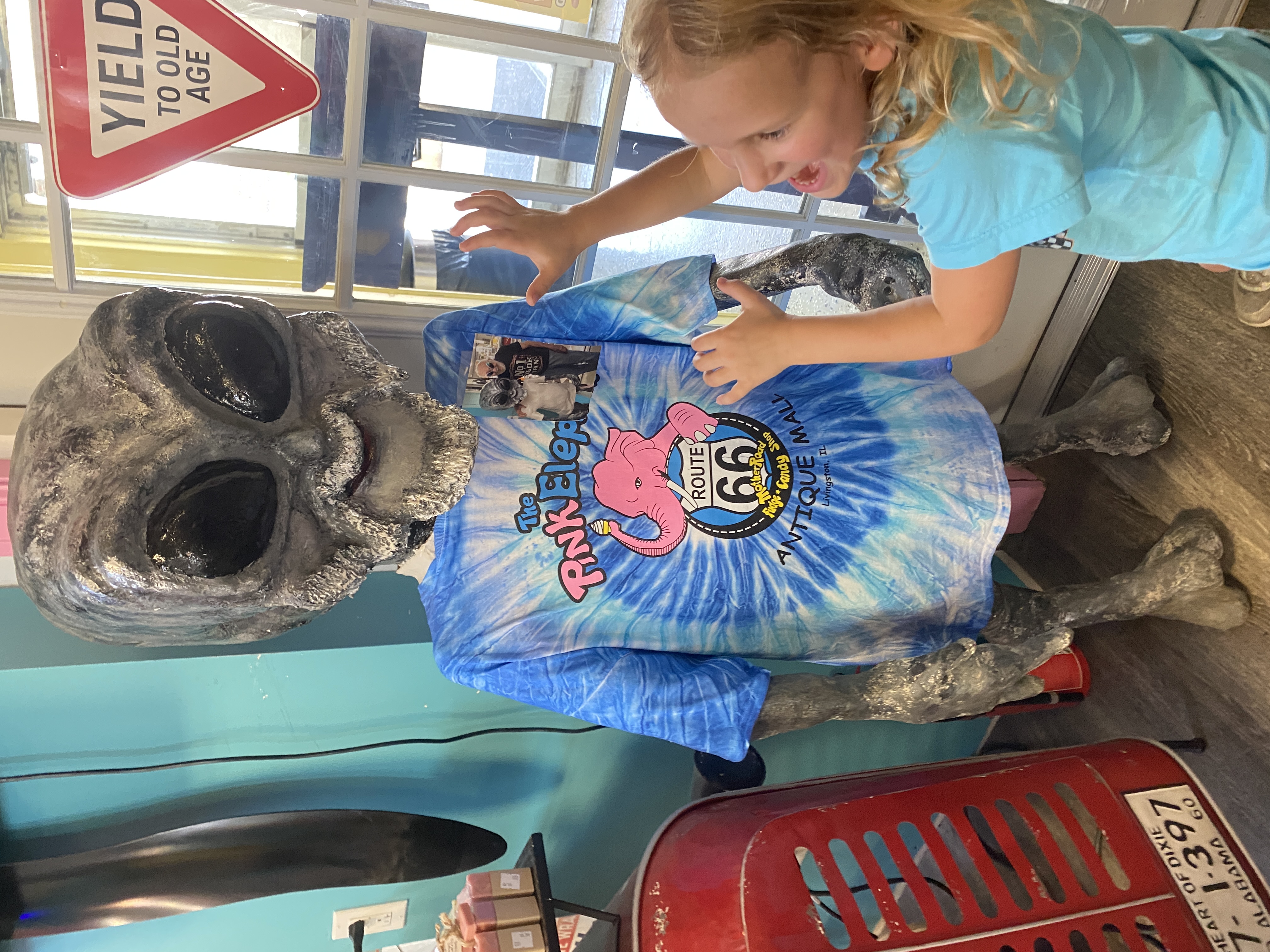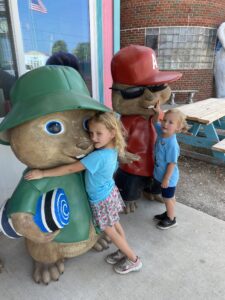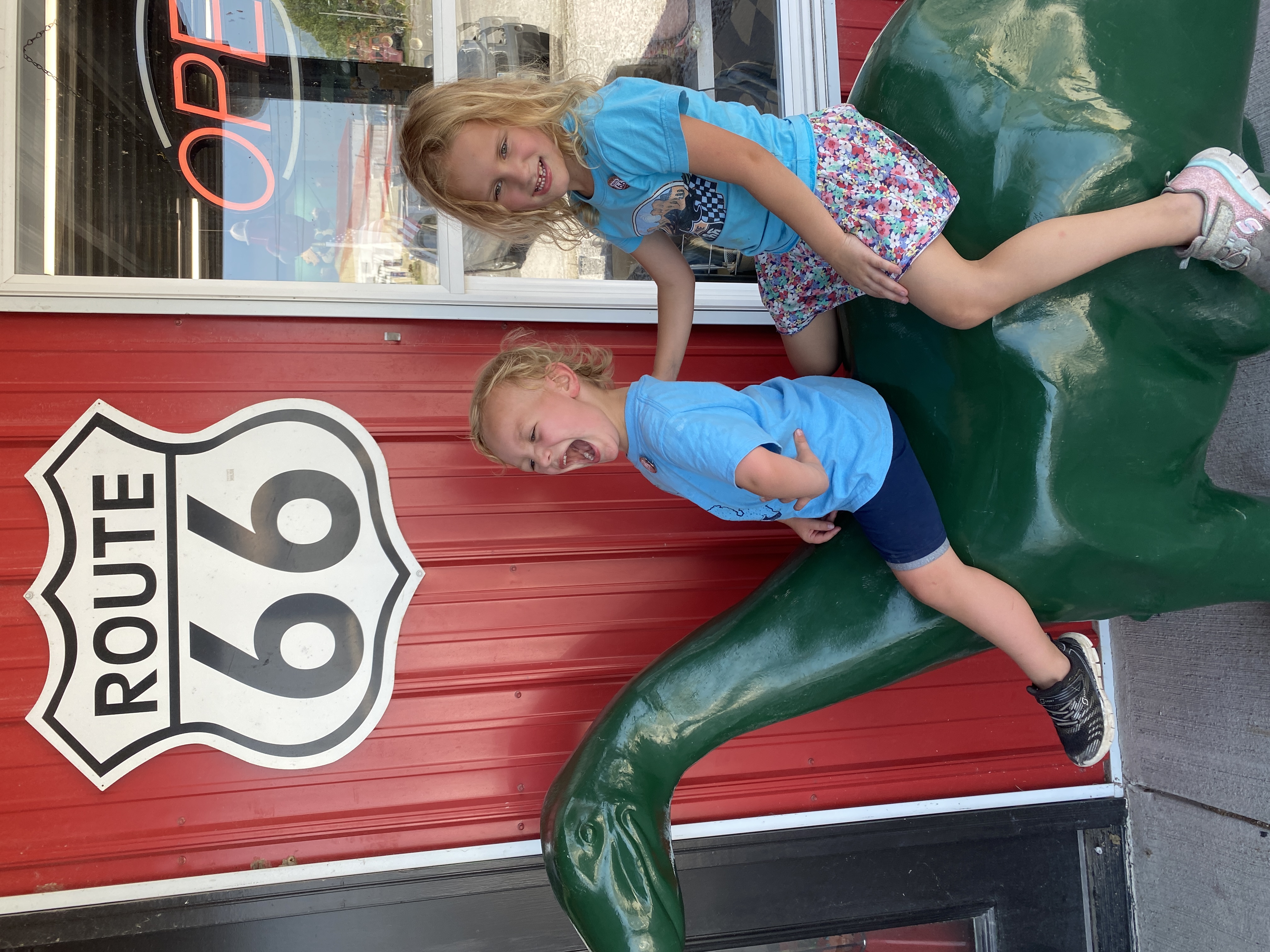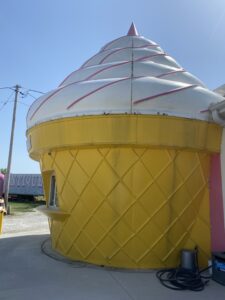 They also had ice cream, thank goodness! Fortified with the ice cream, we took a detour through endless cornfields on our way back to Springfield. Our goal? Find the famous Turkey Tracks! Not sure if they were wild turkeys or a local farmer's turkeys but either way, they crossed the wet cement of the highway and their footprints have been carefully preserved for posterity.This is truly an out-of-the-way roadside attraction on an old concrete section of an original stretch of Rt 66. Not sure how many diehard Rt 66 fans make the effort to include this stop but my grandkids loved it and I would certainly seek it out again.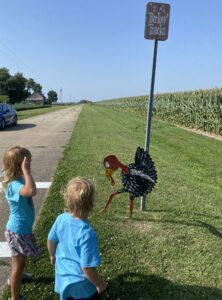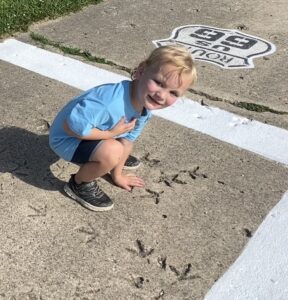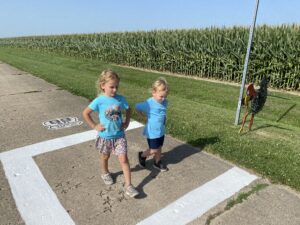 Had to have dinner at the iconic Cozy Dog in Springfield,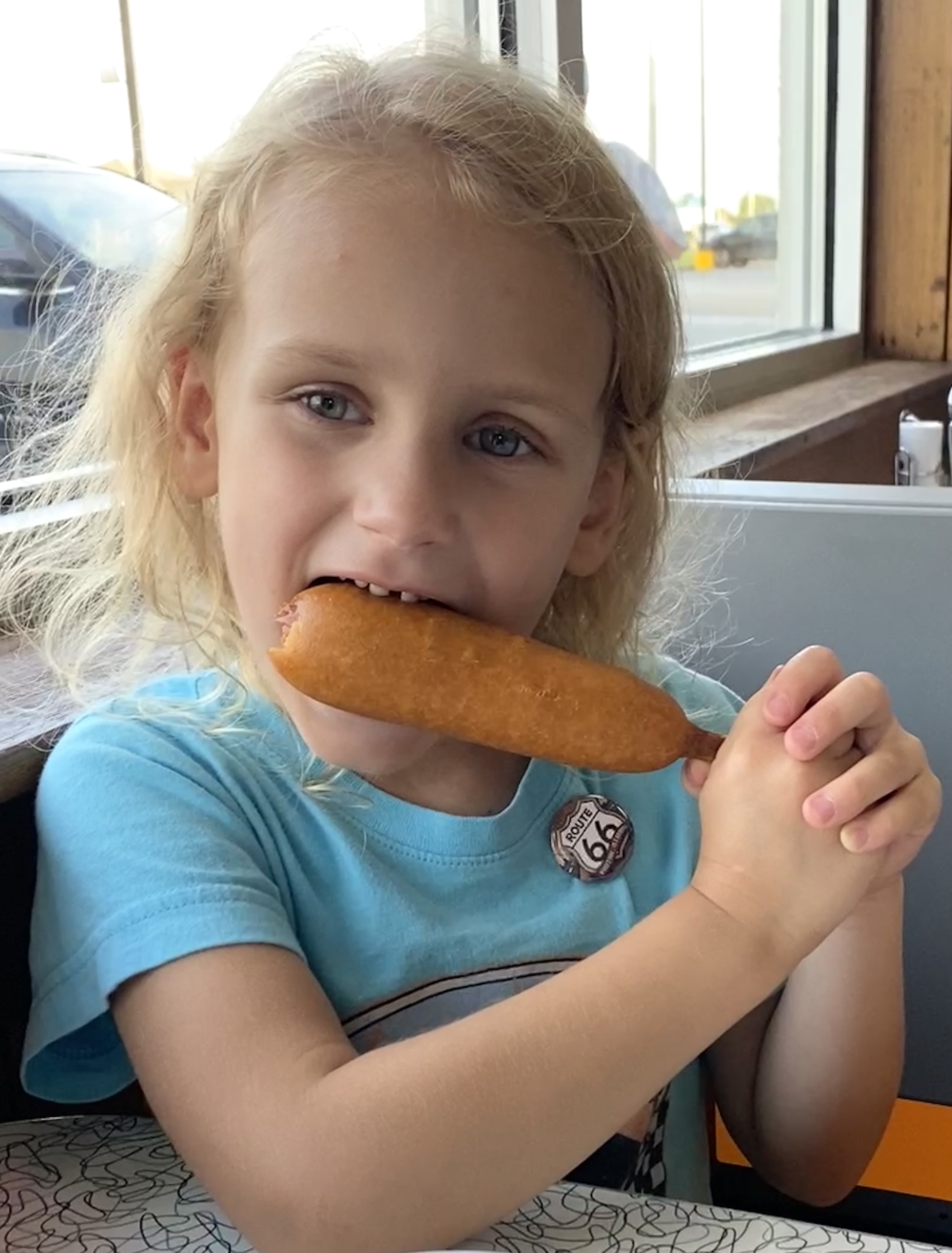 where the corn-dog-on-a-stick was first "invented" back in 1953. Then it was a dip in the hotel pool before tumbling into bed. The next morning, our homeward journey included a stop in Lincoln, IL, to see Abraham Lincoln atop the world's largest covered wagon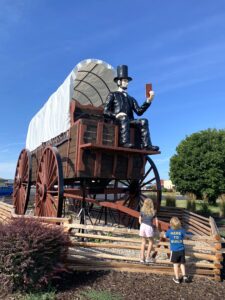 and a stop at a beautifully designed playground and splash pad back in Pontiac that a museum employee had recommended.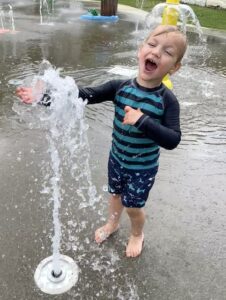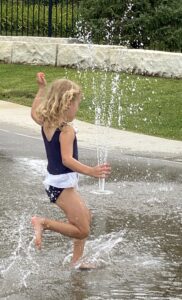 Oh, and a visit to Carl's Ice Cream. While waiting for the store to open, the kids decided this giant needed his shoes shined!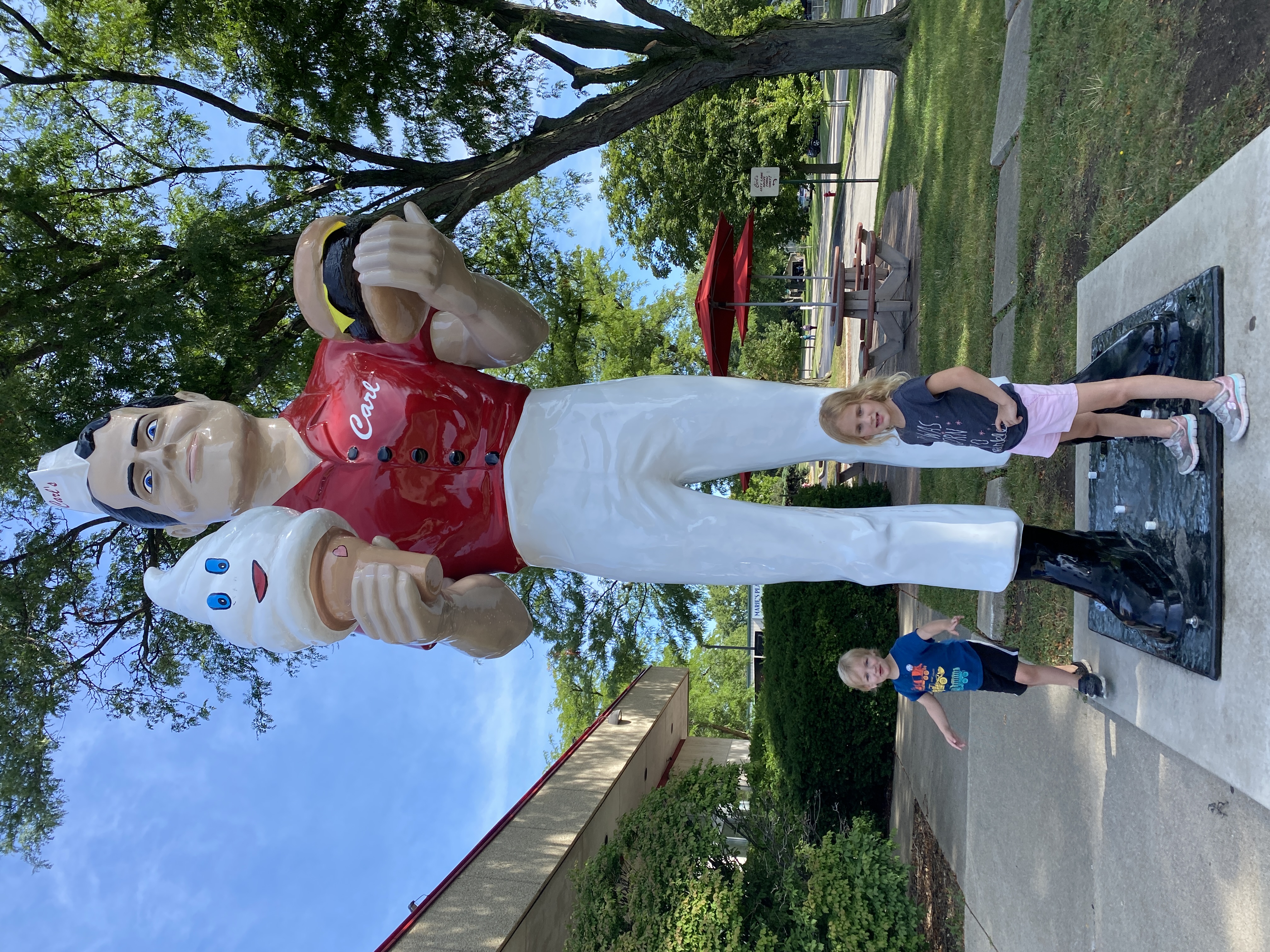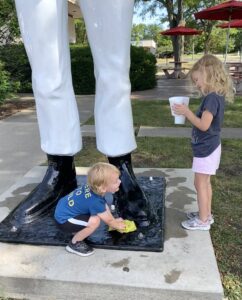 I actually think the Illinois stretch of Rt 66 is a fun trip for kids (or grandkids) of all ages. If traveling with older kids, you could add several days in the Springfield/Lincoln/Bloomington areas to immerse yourselves in all the wonderful Lincoln museums and other educational sights.
So there you have it: 1000 miles in just a little over two days. Just before leaving, I picked up some squishy, stretchable thin rubber dogs for about $3. I'm not even sure why I did, but they turned out to be a lifesaver.The other lifesaver was listening to the first eight books of The Magic Treehouse series on Audible. I don't claim any great wisdom or foresight in planning but the books held their interest and the little stretchy dogs kept their hands busy, and the combination worked like magic to help this trip go smoothly! Would I do this trip again? You bet!