What is this? Actually, it could be just about anything. When you are traveling – or even if you are just planning a trip – so many things can happen to throw a monkey wrench into your best-laid plans. These things can test your patience, your problem-solving skills, and certainly your ability to handle stress without losing it!
In a few days I am leaving on a 12-day road trip (with a little train travel thrown in) with four of my granddaughters, ages 8, 10, 11, and 15. We are going a long way, all the way from Michigan to Prince Edward Island, off the east coast of Canada. I haven't added up all the miles yet but I know it's a LONG way – and I'm the only adult.
That's why I started planning this trip months in advance and tried to pin down absolutely every detail. So, how's it looking a mere five days before we are supposed to leave?
On the third day of our trip, I knew we would be cutting it close to get from our stay in New Brunswick to the car ferry in Nova Scotia for its noon crossing to Prince Edward Island (with its need to be there 45 minutes before departure). We'll be okay, I told myself; we'll just have to get a really early start.
So what email do I get a couple of days ago? A message from the ferry company saying they are moving the departure time up half an hour. *sigh* Okay, we will just get an even earlier start.
Then, the next day, I get an email from airbnb saying that our host in New Brunswick has canceled our stay. No explanation given. This was a reservation I made back in February and now, just days before we leave, we don't have a place to stay on the second night? I start scrambling to find another place and after several hours, I do find a place. It costs a little more and I will have to sleep on a couch instead of in a bed, but at least we have something.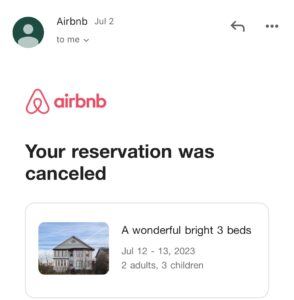 NOTE: Airbnb's customer service STINKS! The total of our original stay, including all taxes and fees, was $131.59 in US dollars. Airbnb informs me that they are giving me a $25 rebooking coupon, as long as I book something of equal or greater value. That's nice, I think. The new place will cost me $158.86, so even with the coupon, it will still cost me a couple of dollars more, but not too much. When I go to enter the coupon, however, Airbnb won't accept it because it's not of "equal or greater value." I'm on the phone with airbnb for ages, trying to figure out why $158.86  isn't greater than $131.59. Even though the $131.59 INCLUDED all taxes and fees, Airbnb requires the base rate (NOT including taxes and fees) of the replacement booking to be at least $131.59. It is a total scam, with them having two different standards and comparing apples and oranges. BUT, having my philosopher husband's words ringing in my ears, "Some things are under your control and some things aren't," I am moving on. Except for blogging about it here – he, he!
Then today I receive a text from my (one and only) credit card saying they have declined a suspicious transaction. Did I order $29.99 worth of supplements from "Keto Diet Pals"? No, I did not. What does this mean? It means that they are going to cancel my card and send me a new one "in 5-7 business days." Great, but I will already be on my trip before then and that's the card I was intending to use! The woman on the other end of the line was very kind and said they would try to expedite the new card. Here's hoping it does arrive in time.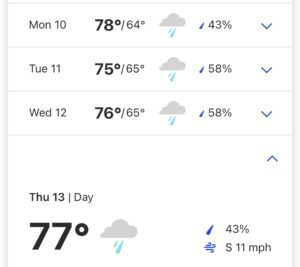 And then, to top things off, I did a very foolish thing. I looked at the weather forecast for our trip: Rain and thunderstorms the whole time we are on the island. And all the days traveling to get there. And all the days traveling home. I felt like crying.
We haven't even left home yet and all these problems are cropping up. What's the actual trip going to be like?
As an Orthodox Christian, every morning as part of my prayers I say, "Teach me to treat everything that comes to me throughout the day with peace of soul and the firm conviction your will governs all." Do I mean that when I pray it? When telling others about my upcoming trip, I have been mouthing all the right platitudes: "No matter what happens, we'll still have fun." "If it rains on the trip, we'll all be together so it will still be an adventure." Do I really mean it when I mouth those platitudes? Hmmm…it does feel a little different when you realize you have to actually live out what you say you believe.
I recently heard a speaker talk about not operating from an attitude of scarcity (looking at what you don't have) but instead from an attitude of gratitude. So, I decided to try it with what's been happening recently.
I'm grateful the car ferry emailed me. That means they have our reservation. I'm grateful they moved the departure time up by only half an hour. If it had been any more than that, it might have made our connection impossible.
I'm grateful that I could find a last-minute Airbnb close to our original destination and that it wasn't horribly expensive. I'm also glad that our new hostess will accommodate us, even though her listing says, "No children."
I'm grateful that the credit card cancellation didn't happen while on our trip but instead happened early enough for me to (hopefully) get a new card. I'm glad they are going to expedite it at no extra charge.
And I'm actually grateful that I checked the forecast. That way I can be prepared. I have already started a new list of what to do on PEI when it rains. And by setting the bar of my expectations fairly low, I will be ecstatic if the sun ever peeks through! After all, we all know that weather forecasts are not always correct!
And finally, I am grateful to discover that I actually do believe what I've been saying.  If things continue to go askew on this trip, what a privilege to be able to demonstrate to my granddaughters how to handle adversity and disappointment. This is a skill they will benefit them throughout their lives.
I'm feeling better already!