In August of 2020, I had a marvelous trip to Prince Edward Island, Canada, planned with my 12-year-old granddaughter – which COVID totally torpedoed, of course. As disappointed as I was about not getting to go to PEI, I was determined that she and I come up with some trip we could still do together. I finally came up with a winning plan: an almost exclusively outdoor trip with a definite "water" theme.
What is it about water in nature? It holds an almost universal appeal, whether it's a serene lake, a waterfall, swift rapids, or crashing waves. For us, our time around water proved to be very refreshing and relaxing – exactly what we needed during those challenging pandemic times.
So what did we do? We hit all five of the Great Lakes – with Niagara Falls thrown in as a bonus!
Although my granddaughter had been to Lake Michigan earlier in the summer, I decided not to count that because I wanted us to visit all five of the Great Lakes in a single trip. We headed north from Grand Rapids, with our sights set on Mackinac Island. The first night, we stayed in Mackinaw City, stopping by the shore of Lake Huron for a sunset view of the "Mighty Mac" bridge that connects the "mitten" part of Michigan to the Upper Peninsula.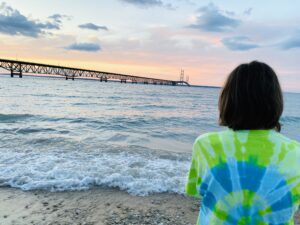 The next morning, we took a Shepler's ferry under the bridge and on to Mackinac Island for a glorious day of bike riding, sightseeing, and of course, sampling fudge.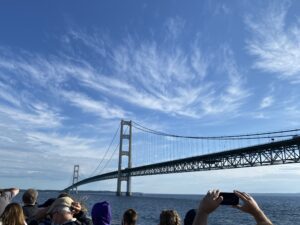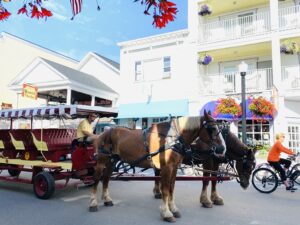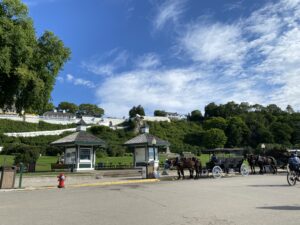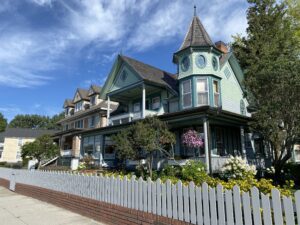 Since no cars are allowed on the island, transportation options are limited to walking, cycling, and horse-drawn vehicles. We chose the first two, starting with bikes. The trip around the the 8.2-mile perimeter of the island is surprisingly easy – all paved and mostly flat. From every turn of the road, we discovered breathtaking views, including the bridge, interesting rock formations, and wide expanses of the turquoise waters of Lake Huron kissing cloud-swept azure skies.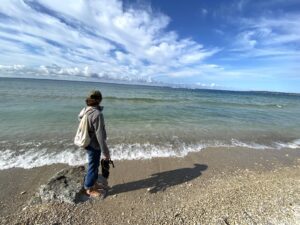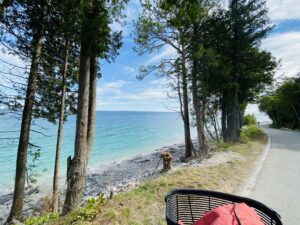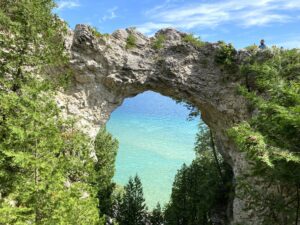 We kept our bikes for nearly 4 hours so we could also ride around town and then head inland to the Grand Hotel. After turning in our bikes (and circling back to pick up our chosen fudge!), we took a return ferry, crossed the Mackinac Bridge, and drove on to Munising to spend our first night in the U.P.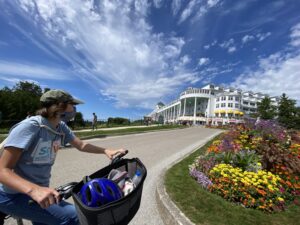 The nest morning, it was Lake Superior, which is unlike any other lake I'm familiar with – so remote and wild and gorgeous. We loved viewing Miner's Castle rock formation and Miner's Falls and wound up spending quite a bit of time at Miner's Beach, wading and climbing and picking up rocks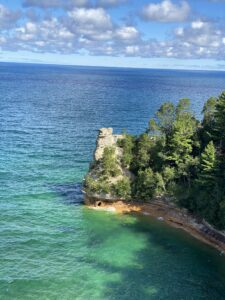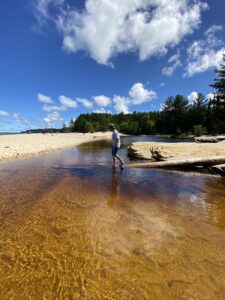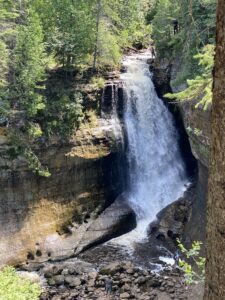 From there, we headed south to visit Kitch-iti-kipi or "Big Spring," a place on my granddaughter's bucket list. And no wonder! The water, all natural, is surreal in its beauty. A slow-moving wooden ferry glides across the spring under human power pulling a cable so the serenity is not marred by a motor. In the center of the ferry is an open space through which large fish can be observed, swimming up to 40 feet below but looking so close in that clear water that you might believe you could reach out and touch them.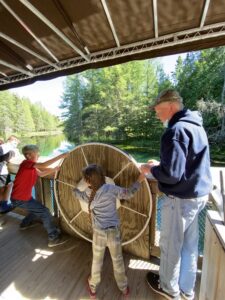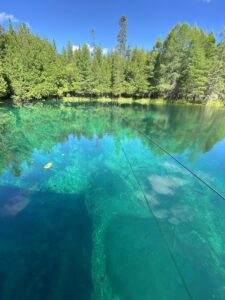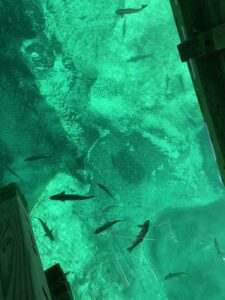 Finishing our trek across the U. P., we traveled along the western shore of Lake Michigan, gorgeous on this sunny day, until we reached our destination of Oshkosh, Wisconsin, chosen because it's where our oldest son, Sophia's dad, was born. The next morning we viewed the hospital where he was born and the church where he was baptized, as well as Lake Winnebago. I told Sophia that her grandfather and I spent many a pleasant evening strolling along the lakeshore, as it was within walking distance of our apartment. Lake Winnebago was as lovely as I remembered, and nearby we discovered the biggest and best children's playground either of us had ever seen!
After lunch we drove to Manitowoc, Wisconsin, to board the S. S. Badger for our four-hour voyage across Lake Michigan. We couldn't have asked for a more picture-perfect day for our crossing. We had our own state room so we alternated between being on deck, engaging in some onboard activities (gift shop, playing bingo), and resting in our state room. And yes, Sophia talked Grammy into coughing up $5 so she could have internet…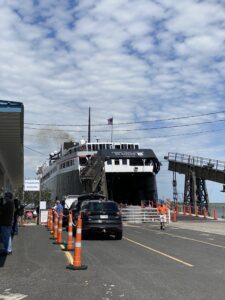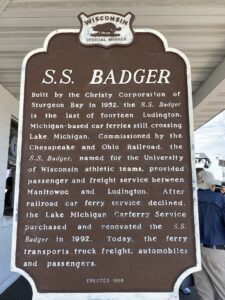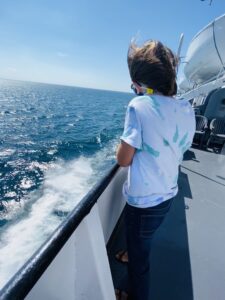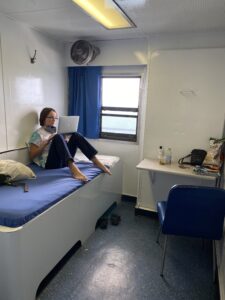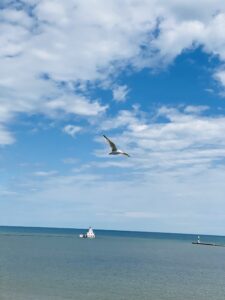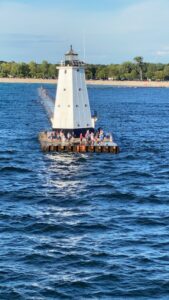 The next day, we took a day off from our travels and spent most of the day in Ludington, watching the movie "Anne of Green Gables" (if we couldn't visit Prince Edward Island this summer, at least we could let the movie transport us !) plus a few episodes of "I Love Lucy," another favorite. We did fit in a visit to Buttersville Beach, just south of Ludington, and marveled at its marbled tan, black, and red sand beach.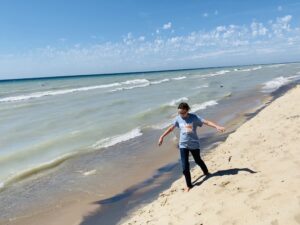 On Friday, we picked up my husband in Grand Rapids and Sophia's two younger siblings in Brighton, MI, who had been spending time with their other grandmother. We then headed for Pennsylvania, to return all the grandparents to their parents.
But wait, you might be thinking: Huron, Superior, Michigan – that's only three of the Great Lakes! Never fear, for first we stopped for dinner at the home of a dear college friend who lives less than a mile from the shores of Lake Erie. When she brought us to a local beach after dinner, my 11-year-old grandson sucked in his breath and exclaimed, "Wow, this is a stone-skipping heaven! (Lots of flat rocks and a big expanse of water.) We let the kids climb and wade for an hour before heading for our destination for that night: Niagara Falls, New York.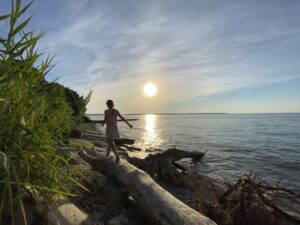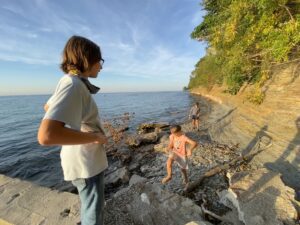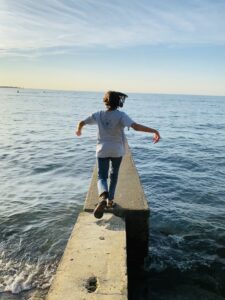 I have been to Niagara Falls many times in the past – but never like this. On this spectacularly clear morning, there were no crowds at this perennially popular spot. At all. We arrived early in the morning and pulled up to a front parking spot. From there, we walked right up to the rails. No problem taking pictures or keeping our distance from others. While we were not allowed into Canada, from the American side we were still able to get "up close and personal" with the Horseshoe Falls, the American Falls, and the Bridal Veil Falls.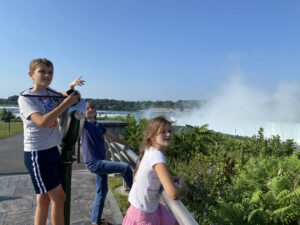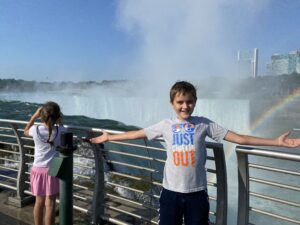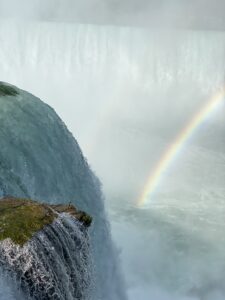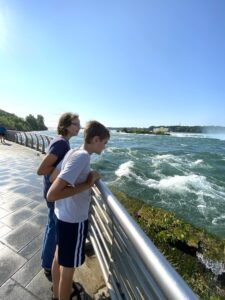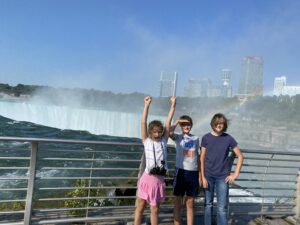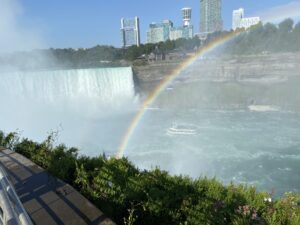 And finally, by taking a little jog north from Niagara Falls, we reached the southern shore of Lake Ontario. We had done it! All five Great Lakes, plus Niagara Falls, in a single – and fairly relaxed! – trip.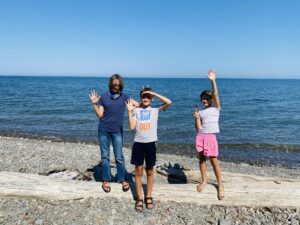 So the cloud of COVID that hung over that summer of 2020 had a silver lining for us. The prescribed precautions that encouraged everyone to stay outside as much as possible. Turns out, that's not such a difficult place to be, especially in summer. Added to a trip earlier in the summer where I had all three grandkids at the falls in my hometown of Chagrin Falls, Ohio, and catching crayfish in the Chagrin River, we realized that our summer of 2020 was "awash" in great memories – in spite of the pandemic. We learned that by using common sense and following prescribed precautions, it was still possible to travel, enjoy life, and make sweet memories!