You CAN Go Home Again: Part1
Success! My long-desired skip-gen family legacy trip finally happens, and it is a "Mary Poppins" experience: practically perfect in every way!
I am blessed by having six grandchildren living in the same city with me. The other three live seven hours/400 miles away. Because they live in Pennsylvania and my husband and I live in Michigan, Ohio is always just a state we travel through to get from one to the other.
And this has always saddened me.
Why, you may wonder? It's because I had an idyllic childhood growing up in northeastern Ohio and I've always wanted to share parts of it with my grandchildren.
The opportunity finally comes during, of all things, the current pandemic when I am bringing them to Michigan for a week while their parents have specific work commitments.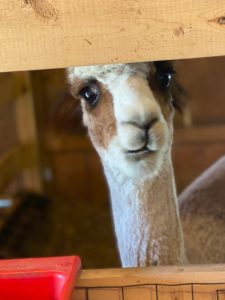 Late on a Sunday afternoon, I meet our oldest son for the "handoff" in Kent, Ohio, an easy meeting place right off the highway. I then inform my three grandkids that "Alpaca you off to a farm for tonight." "What on earth, Grammy?!" they ask. They think I'm making no sense, but are surprised and thrilled when our overnight lodgings turn out to be at SoulMate Farms (https://www.facebook.com/soulmatefarms/), a 4-1/2 acre alpaca farm.
The city of Kent is a special place to me because growing up, I spent a good deal of time there visiting my aunt, uncle, and three cousins. They owned horses and my uncle was the basketball coach at Kent State University, where, as a high school student, I enjoyed taking in many college basketball games. While the alpaca farm has nothing specific to do with my childhood, it turns out to be the perfect place to stay with kids – spacious accommodations indoors and tons of room to roam outdoors, complete with a fire pit, full basketball court, and of course, interesting animals.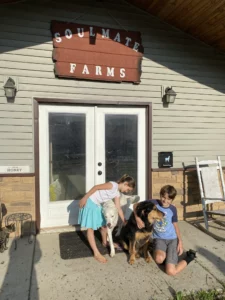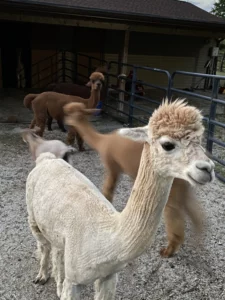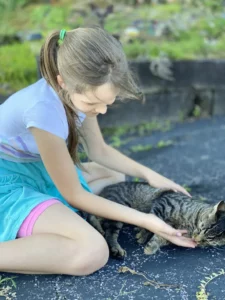 After meeting the 16 alpacas and  two goats, (and playing with the cats and dogs), we head 20 minutes north to the neighborhood where I grew up. We stop at the house my parents built in 1952, where they brought me, their firstborn, home from the hospital in 1955, and where I lived from then until the age of 14. We meet the young couple currently living there – from a safe distance, separated by a fence, as we are still mindful of the current pandemic.  *sigh*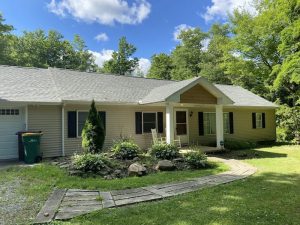 The house has been updated of course, the ranch-style house now sporting a front porch. The apple tree in front of the large picture window – the one where the robin returned every spring to build her nest in the same spot – gone; (sacrificed for the porch?) The grove of birch trees – all gone.  The big oak tree – thank goodness, still there, and more imposing than ever.  The tree in the backyard where we had our fort, the tree with our tire swing, the two trees for our hammock – all gone, replaced by a large work shed instead.
But the place still exudes the same peaceful charm I knew as a child. As I stand there listening to the birds singing and the wind in the trees, I can feel the sweet presence of my parents.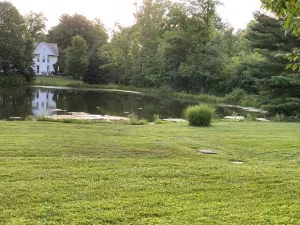 The house sits at the bottom of a small hill and at the top of a big hill. As a child, I used to walk to the bottom of the big hill to catch the school bus. My siblings and I also made frequent trips with our mother to the bottom of that hill to visit Schultz's pond – the scene of many happy hours spent catching painted turtles and tadpoles.
At Schultz's pond we turn right to drive past the house my family moved to in 1969; same neighborhood but bigger house, and set back more in the woods. The house began its life as a stone hunting lodge for a local doctor and was slowly added onto until it became the 4-bedroom home I grew up in and loved for the next 30 years. My father sold it after my mother died from a prolonged battle (nearly 16 years) with Younger-Onset Alzheimer's Disease and the new owners took the house down to the studs, completely rebuilding it. It's gorgeous, but it's not the home I grew up in.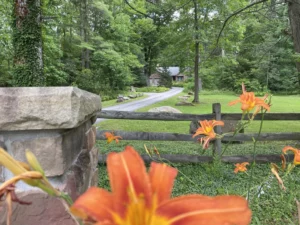 Ah, but the lovely wooded two acres that hugged the house, the large boulder in the front yard deposited by a glacier eons ago, the long sloping driveway fringed with blue forget-me-nots: those are all still there, my heart thrilling to see them.
Farther up the road, we run into former neighbors walking their dog and they invite us to hike in their woods and behind my childhood home when we return tomorrow.
The highlight of the evening is the stop at the "caves" at the end of our road, a natural stone bridge under which flows a small waterfall-fed stream, passing through fascinating rock formations and shallow caves. "You grew up a 5-minute walk from this place?" my grandchildren wonder aloud. They can hardly believe it. I can hardly believe that it is essentially unchanged from my childhood, as nearly 50 years have passed since I last played here. I am only able to drag my grandchildren away from this beautiful spot with a strict promise that we'll return in the morning when we'll have more time – and daylight – to explore.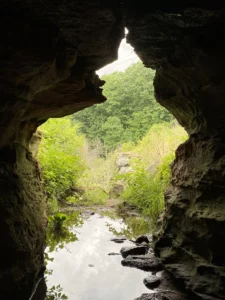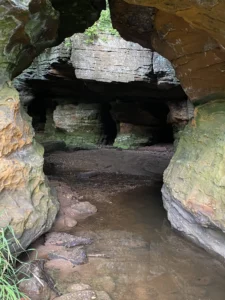 On the way back to the alpaca farm, we watch the gorgeous sunset while I regale them with more stories from my childhood: how in the summer I'd disappear after breakfast and spend all day back in the woods, hiking and exploring; the glorious, endless acres of towering beech, maple and oak trees, the forest floor littered with beechnuts and acorns; how I'd cool my feet in a stream that tumbled over large boulders; my younger brother and I riding our neighbor's ponies bareback through the woods, our hands dug deep in their shaggy brown coats, holding on for dear life.
The jewel in these woods was an "Indian grist mill." A large flat stone with a long deep groove, the original Native Americans used a large round rock, still present during my childhood, to grind their corn as they rolled it back and forth in the trough. We found the occasional arrowhead in this area, as well.
Did we love this area back then? Of course. Did we fully appreciate it back then? No. As kids, we expected that the cherished sites of our childhood would somehow always be there. Sadly, after I grew up, the woods were sold and the Indian grist mill was bulldozed over to make way for houses. A piece of history gone forever. My heart aches, I tell my grandchildren. I wonder why they couldn't have built the houses around the grist mill, roping it off and placing a historical marker there. As far as I know, the only pictures of it remain in my brain and those of my siblings and a few neighborhood kids.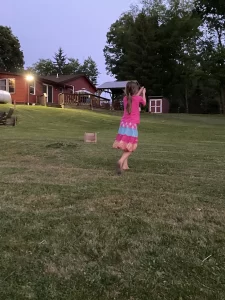 My grandchildren are properly incensed on behalf of history in general, and me, in particular. And maybe for themselves, as well, as they will never get to see it.
Back at the alpaca farm, the kids catch lightning bugs and shoot hoops until well after dark. The afternoon and evening have been just an introduction to my childhood, but I am already encouraged by their new love for many of the old places I have loved.
And still love.
Have you ever taken your grandchildren back to where you grew up? If so, what was their reaction? Were they bored or fascinated – or both?