…GO! (Part 1 – Belgium)
And go we do!
My husband and I start out first, leaving our home and traveling by train to Chicago where we catch our flight to Brussels via Dublin. With great tailwinds, we shave an hour off our flight. Dinner and breakfast service on a 6-hour flight doesn't leave much time for sleep and in fact, we don't get any!
We think our son and grandson might fare better with a 7-hour nonstop flight leaving at 9 pm, but unfortunately our 10-year-old grandson also does not sleep at all. Probably too excited; that, plus electing to watch one in-flight movie after another.  Then their train is postponed due to a strike in France, forcing them to spend the day in London instead of traveling on to meet us in Brussels. Here are photos of our grandson "enjoying" London that day, after being sleepless over the Atlantic. (Apparently he fell asleep every time they stopped for more than five minutes!)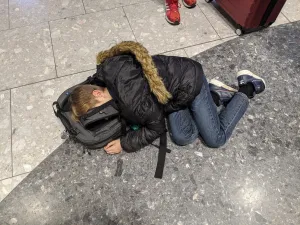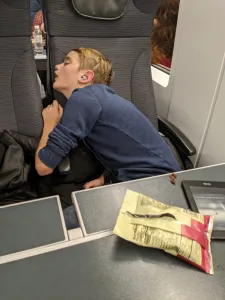 The meet-up in Brussels is not easy either. My hubby and I will never willingly drive in Brussels again.  Ever. We have never before experienced traffic gridlock like we do here, complete with windows rolled down, shouted insults in several languages, and lots of honking horns. At one point our GPS tells us we have 0.7 kilometers to go and that it will take us 20 minutes. It actually takes double that. All the stress melts away, however, once we see our son and grandson step safely off their Eurostar train. Gathering them into our rented Peugot, we head south in the dark and rain toward our airbnb in Vaux-sur-Sûre, a short distance from Bastogne.
Clairette, Clairette – our lovely hostess, God bless you! She meets us with fresh bread and fruit and we are only too happy to whip our pj's out of our suitcases and fall into bed.
As I lie in bed, I think, we are finally here in Bastogne. I have heard of my father-in-law's war adventures that took place here. We have shared them with our children and grandchildren. We know the characters by heart. Now we are here and will meet some of them in person.
The next morning we meet up with the rest of our family group: my husband's two sisters, a brother-in-law, a niece, and a nephew. They are staying in Bastogne with Jean-Marie Pardin-Stilmant. Who is Jean-Marie you may well ask? He is the son-in-law of Gilbert Stilmant, and husband of Gilbert's daughter, Arlette. Who are Gilbert and Arlette you may ask? Well…
In December of 1944, my father-in-law is a 20-year-old tank driver and gunner stationed in the area around Bastogne. Just before  Christmas, he and a tank-mate come upon a partially destroyed house. They see a chicken running loose and, deciding to "liberate" it, look for somewhere to cook it. They are wary, for they have been warned Nazis may be hiding in a number of the shelled buildings. Creeping through the house, they find nothing. Time to check the cellar. Lifting the door, guns drawn, they see them huddled under a blanket and sitting on a pile of potatoes: not Nazis, but a young couple and their 9-year-old son. They had spent the previous night hiding out in their fields in the freezing cold, afraid for their lives. Tonight, they have slipped back home for some warmth and some food; their mood changes from terror to joy when they realize these are American soldiers opening the door to their cellar.
For their 20th wedding anniversary in 1966, my in-laws travel back to Bastogne and my father-in-law is overjoyed to find the same house and the same 9-year-old boy, Gilbert Stilmant, now all grown up, living in the house with his wife, Yvette, and children, and now mayor of Bastogne. Although Gilbert and my father-in-law have now both passed away, the families have kept in touch. Gilbert's little daughter, Arlette, is now grown up and married to Jean-Marie. Yvette and Arlette do not speak English but Jean-Marie does, so he is acting as our host and tour guide for this trip.
Today the weather is nasty – raw, wet, windy – but we remind ourselves that it is nowhere near the weather 75 years ago when soldiers slogged through deep snow and endured sub-zero temperatures.
First, Jean-Marie drives us out to the Peace Woods, about 10 km outside of town. For the 50th anniversary in 1994, a tree is planted in honor of each American soldier who helped liberate this area. (Click here for an aerial view of the woods, showing how it is planted in the shape of the universal depiction of love, the mother-and-child Unicef symbol.)
Jean-Marie's mother-in-law, Yvette, a spry 90, leads us through the rain straight to my father-in-law's tree – the "Bob" tree they call it. My sister-in-law places a small American flag by the plaque and we all take pictures. This has been at the top of our list: to have a picture of my husband, son, and grandson taken next to this tree.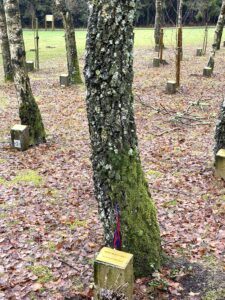 Next we travel to Arloncourt, scene of the most important story connected with my father-in-law. Even today, when we pick up a local newspaper, "The Miracle of Arloncourt" is featured. (It's in French; we'll have it translated but we already know the story well.)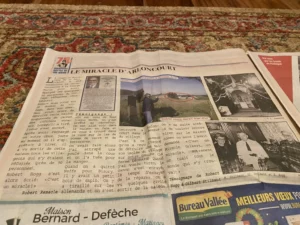 Jean-Marie takes us to the top of a hill and points to a large but quaint farmhouse below. From this vantage point so many years ago, my father-in-law is ordered by his tank commander to fire upon and demolish the building.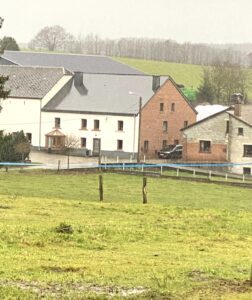 His gun never jammed prior to this point and it never jams afterward, no matter how cold the day. But at this moment, it refuses to fire. His commanding officer begins to curse him but my father-in-law explains he's trying: the gun just won't fire. Then the occupants of the building slowly begin to file out with their hands in the air. They keep coming: ninety-two of them. Men, women, and children. Not Nazis, but the local villagers of Arloncourt.
The present owner of the farmhouse is Francis Leonard. His father, Marcel Leonard, was a young boy during the war, and one of those hiding in the building. Marcel has also passed away, but today we meet Francis and his mother, Marcel's widow, Germaine.
They invite us into their home for coffee and cookies and together, in broken English and broken French, we talk about the war experiences that have brought us together. Looking at the two widows, Germaine and Yvette, the importance of this trip is driven home to me: they were there; they lived through it. They are elderly now. Soon there will be no one left who actually experienced the horrors and terrors. Only the stories will remain.
I hope my grandson will remember this trip, this day. I know he is listening to the stories but right now, he does seem a little more interested in drinking a Coke (something forbidden him at home) and having another cookie…
Dusk is falling by the time we leave but there is still enough light to visit the shrine up the road. The shrine is called "La Chapel de Notre Dame de Deliverance" (The Chapel of Our Lady of Deliverance) because the 92 villagers, huddled together in that building, had been praying for a miracle to save them from the Germans – and they received one. Limited in my French, I am unsure if the plaque commemorates the specific incident with my father-in-law, as we thought, or for the town's deliverance during the entire battle. No matter.
Later that evening, after the present owner, Ludwig, has returned from work, Jean-Marie takes us to the former home of his in-laws and site of the cellar where our family stories first became intertwined.  Yvette is once again with us. She tells us the entry used to be the kitchen and where the kitchen is now, there used to be stables. Ludwig, accompanied by his cat, Garfield, takes us down some narrow stairs into the cellar.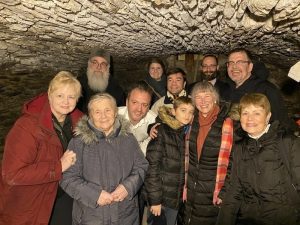 Two of Gilbert's granddaughters, Marie and Anneliese, are also with us. They used to play in the cellar as children and tell us that the sights and smells of it bring back only happy memories.  For Yvette as well, this is the cellar where she stored her produce for most of her married life. I imagine the memories of her husband, Gilbert, might be more mixed were he still alive. Or did the happy memories of raising his own family here erase some of the memories of earlier traumas during the war?
It has been a full day. Very few of the things we have seen and experienced would make the list of a typical tourist to the area. These are personal. These make the war personal. These make the flesh and blood individuals we have met special.
We all agree that everything from this point on is "gravy." (My grandson wants to know what this phrase means. I tell him we have just had the "meat" of the trip; everything else is extra.) It doesn't mean that there aren't more things we want to see and do – just that the most important things have been accomplished.
The highlight of the next day is the "throwing of the nuts" ceremony. On December 22, 1944, Gen. Anthony McAuliffe received a German request for surrender. His one word typed response, "Nuts!" has been immortalized and is celebrated every year by dignitaries throwing bags of walnuts from the balcony of the Bastogne Town Hall to the waiting crowds below.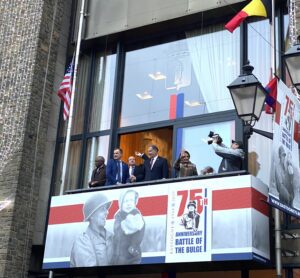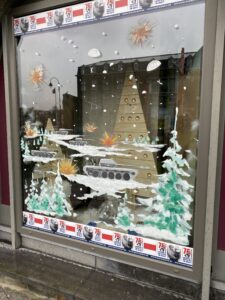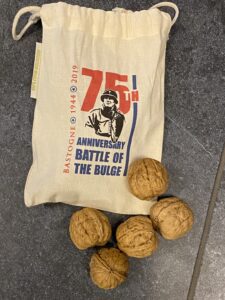 It is cold and rainy, and my paper bag from the chocolate shop behind us disintegrates, spilling my treats onto the street, and even though I don't catch a single nut, it feels thrilling to be part of this annual celebration. (At the end of the ceremony, I think because I am short and a gray-haired grandmother, a tall young American takes pity on me and gives me the whole bag of nuts he'd just caught!)
By Saturday evening, our son is felled not by enemy fire but by a nasty cold so he spends the rest of our time in Bastogne in bed, leaving my husband and me to spend some quality skip-gen time with our grandson.On Sunday we visit the Bastogne Barracks.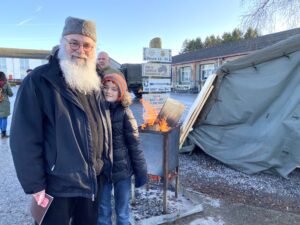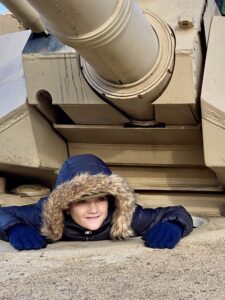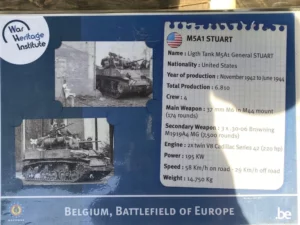 The highlight of this is coming across a model of the the exact Stuart light tank my father-in-law drove.
In the afternoon, there is a parade of 100 modern and vintage military vehicles. Tanks roll down the narrow cobblestone streets, throwing candy, while planes fly overhead.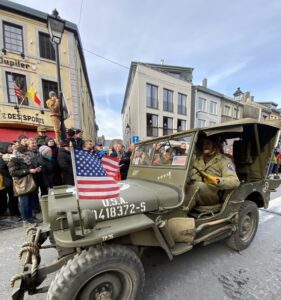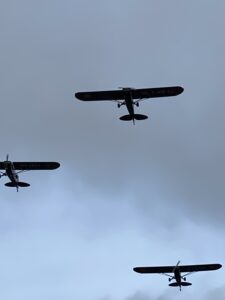 Shop windows are painted honoring American freedom fighters. It's good to be in a place where Americans are beloved. Even our airbnb host, before we leave, says, "Thank you. Thank you for our freedom."
We don't get to do everything we hoped to do. We are never able to get to the Bastogne War Museum, the Mardasson Memorial Monument or Patton's grave and the cemetery in Luxembourg. All are closed when we want to visit in favor of visiting dignitaries. C'est la vie!
Maybe we will come back sometime when the temperatures are up and the crowds are down. More likely, our grandson will return, maybe for the 100th anniversary, maybe with his own children in tow. While the monuments and museums will still be here, but many of the people we have met may not be. For that reason, as well as many others, we treasure this trip and the chance to shape it and share it with our grandson.
Now, it is time to bid farewell to Bastogne, pack up our luggage and memories, and prepare for the next leg of our journey!